The animal clinic is named after the Greek goddess Artemis, who according to old Greek mythology was the protector of the animals. We often see her portraited in literature with a bow and arrow as a symbol of, that she was also the goddess of hunting. She shines in the places where it's dark and gives us strengths to bring us safely through our fear.
The symbolic behind the goddess represents an approach to animals and humans, which we at Artemis do our best to live up to.
When you arrive at the clinic, then it's important that you feel safe and content, knowing that we will do our most outstanding to make sure your pet gets the best possible care.
A visit to an animal clinic is often connected with emotions, since the animal is their best friend and a part of the family. We would do our best to make sure you feel safe during the course, so the visit to the clinic is a success for all, whether it's a health check or a larger operation.
At Artemis it's always the love for the animals that makes the foundation for our work.
Veterinarian Lise Rovsing
Lise became a veterinarian in January 2006 and has since then worked as a practicing veterinarian. Today Lise is the owner of the animal clinic Artemis.
Lise has a broad knowledge in medical illnesses, hormonal disorders, gastrointestinal diseases, skin diseases and allergies.
Lise has an extended knowledge about mange, giardia and heart- and lungworms which are often diagnosed at the clinic.
She has an in-depth knowledge of the short snouted dog breeds such as bulldog and mops, which are largely represented at Artemis.
You will often meet Lise at the clinic for health check of your dog or cat. Each stage in the life of your pet can be challenging regarding health and illnesses, and Lise does her very best together with the owner to give a great life for the pet in cooperation with the owner via examination and dialog regarding wellbeing and behavior.
As well Lise performs laser K-therapy in treatment of wounds and pain.
She oversees the Artemis events like Puppy nights and "Walk and talk with the animal clinic Artemis". Lise started the walks for Artemis clients in 2013. They meet every other Sunday in Dyrehaven for one hour of walking, where also a dog trainer joins them. You can read morehere.
Lise has passed an exam as "Dog trainer and behaviorist" through education with Turid Rugaas with the view to better guide the clients.
She is an "Associate member" of PDTE (Pet dog trainers of Europe). To have a healthy dog is not only no present of illnesses. Health and psyche go together, so education will upgrade the skills in understanding the language and behavior of the animal.
You can follow Lise at her homepagehere!

Veterinarian Louise Frost-Christensen
Louise has worked for 10 years as a vet in Holland at Utretch university hospital for smaller animals. She came back to Denmark in 2008, where she came to Artemis in January 2012 after a position with Karlslunde Animal hospital.
She has a supplementary education from "European school of Veterinarian Postgraduate Studies and has the title "General Practitioner Certificate in Small Animal Surgery". It means she holds a special knowledge about the surgical patient.
Louise's surgical competences cover all from soft tissue surgery such as sterilization, castration, removal of tumors to more advanced bone and joint surgery.
She has a special interest in "the limping dog" and pain treatment. The limping dog gets a complete examination, since one problem can have its origin elsewhere.
As well Louise performs gastro- and coloscopy. A procedure that is expected to get implemented within the coming years.
She has a large knowledge with the "brachycephaly" dog breeds' (pug. French bulldog etc.) exceptionally anatomical challenges. She can perform a long row of surgeries on the breed i.e. shortening of the soft palate and expansion of the nostrils – this surgery improves the breathing for the dog and optimizes the wellbeing.
Louise is a popular speaker, especially when speaking about symptoms of pain in dogs. She is booked through "Hund og træning" (dogtraining.dk), which Artemis is co-working with.
Louise is the proud owner of the Giant Poodle, Runa.
 
Veterinarian Marianne Aalund
Marianne has a passion for eye diseases in pets, and has worked with it as primary focus the past many years. Marianne's passion for animals meant that she couldn't stay away from the field, and started as a consultant in December 2015. Marianne has been an owner of Sallingvej Dyreklinik for years.
Marianne has also many years of experience in other fields of the veterinarian medicine.
A problem located in one area can be connected to other things in the body, so
Marianne works like the rest of the Artemis team holistically by seeing the animal as a whole.
At Artemis Marianne will mainly work with diseases related to the eyes.
The empathic manners and smiles of Marianne make both colleagues, animals and clients feel comfortable in her present, so Artemis is honored to have her on the team. More here!
 Veterinary nurse Charlotte Bentsen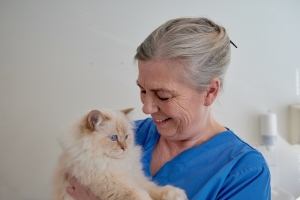 Charlotte has been employed at Artemis since the start of the clinic in 2002.
She has worked as a veterinary nurse for more than 25 years, the past 20 years together with Kristine Elbæk. Charlotte is highly appreciated by both the animals and their humans since she possesses the ability to make both dogs and humans, who happens to be afraid of vet visits feel calm.
Veterinary nurse Gudrun Mortensen!
Gudrun started at Artemis in 2019. She has many years of experience behind her as a veterinary nurse. Some "Artemis-clients" might remember her from 5 years ago when she covered for someone on maternity leave.
Gudrun lives in Søborg with her husband and child.
Veterinarian nurse trainee Cecilie Rosenkranz
Cecilie started at Artemis in February 2019. She is halfway through her education and has returned to the field after a break.
She lives in Frederiksberg with her husband and two minor children.